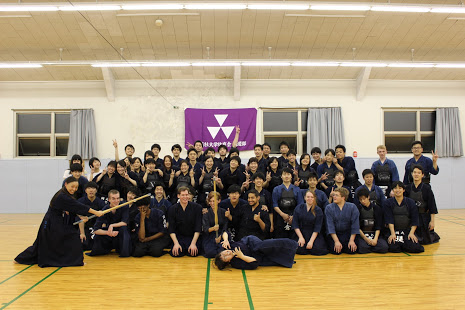 Day         Tuesday, June 13th, 2017
participant  8 international students (University of New Orleans)
place       Doshisha University Shinmachi campus Ikushinkan
Contents     ・Dressing up  ・Watch training ・Swing ・Men hitting ・Watch the game
8 international students from the University of New Orleans came to join Kendo practice on Tuesday, June 13. Most of the students have never experienced Kendo before, so we carried out with the contents such as Hakama dressing, swinging, striking and watching a match. First of all, they experienced the dressing of bodice and Hakama and were very curious and excited to wear kendo for the first time. After they changed to kendo clothes, for the first 20 minutes having a look at our practice that we usually do and then we taught them how to swing and strike surface with the bamboo sword. As they grasped the bamboo sword for the first time, it was a bit difficult for them to hit properly but in the end, everyone made it to do correctly. Finally, we had students see the matches between our members. Before the beginning of the match, the atmosphere was very friendly but as soon as the match began, their face became serious and it seemed they were quite surprised by the tense of Kendo match. Fortunately, some international students wish to continue learning Kendo and we are happy to have them in our regular practice. It was a great opportunity for international students to get more interest in Kendo and we hope this experience become one of their unforgettable memories of their stay in Doshisha.
representative Daiki Muraoka
vice representative Masaya Matsuo